December 28, 2020
24 Simple Styling Tips to transform your home

GO FOR THE GALLERY
In an age where almost everything is digital, we need to remember to print out every now and again! In this entrance hall I have filled an entire wall with framed black and white family photos. The trick is to keep roughly the same distance between each frame and not have too many variables in the style of frame, colour combinations or subject matter.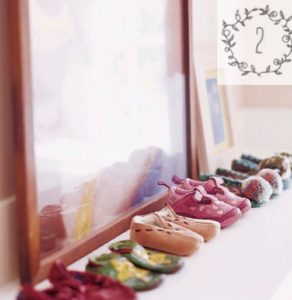 PERFECT THE ART OF THE 'SHELFIE'
'Shelfie' is interiors speak for an artfully styled shelf. Treasured baby booties, favourite books, a collection of coloured glass vases – the possibilities are endless. Just make sure you stick to odd numbers (no-one knows why, it just looks better) and make sure something unifies the grouping (colour, shape etc). And finally remember this is all about beauty over function!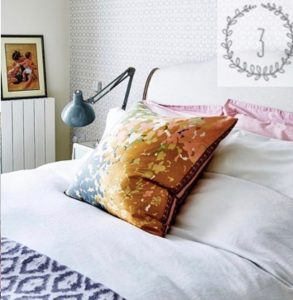 SHOP YOUR HOME
What am I on about? Well, put simply, if you're bored of your bed cushions then don't start that internet search quite yet. Have a wander round your house and see if you can change things round a bit. I do this all the time with small items of furniture, accessories, cushions, pictures… and the beauty is there's no wallet damage whatsoever!
GO BOLD IN THE RIGHT PLACES
Yellow can be a very stimulating colour so by keeping the feature wall behind the bed in this guest bedroom there's no chance of interrupting a good night's sleep. Never be afraid of using colour, but think about how you want to feel in a space and use that as your starting point for selecting the right tone and placement.

COLOUR CODE
Even the most cluttered of bookshelves can look stylish with this simple trick. It's a bit of a pain to do, but looks fab if you have the patience. If that's not a task for 2020 then I don't know what is!

PAY ATTENTION TO THE DETAILS
You might not have the swankiest kitchen in town, but take a minute to replace those threadbare tea towels and scorched oven gloves and suddenly it doesn't look so bad after all. You don't have to spend big bucks to make a big difference.
DECORATE LIKE YOU DRESS
Struggling to determine you style when it comes to interiors? Go and look in your wardrobe and note down which colours you are naturally drawn to. Which items do you reach for over and again? Our response to colour is an emotional instinct and this is true when it comes to interiors as well. Think how you want to 'feel' in a room and which colours resonate with you. It's not about following the crowd. Your interiors should be a reflection of you and make you happy in those spaces. Who cares what the Jones's are doing!

DON'T GO GIMMICKY IN KIDS ROOMS
Trust me, I've got four of them, you will only have to re-decorate! Fireman Sam will absolutely not be flavour of the month when he's 15. Instead talk to them about favourite colours and make the magic happen with pattern and cool accessories which can easily be changed over time.

MIX IT UP!
Don't be afraid to mix styles. The most unique interiors are those which break the rules and scream individuality. Here a bold modern wallpaper is paired with a vintage chair. The trick is to make sure there is something to unite the elements like the 'spring' colour palette shown here.

MIRROR MIRROR ON THE WALL…
…or wardrobe door, or floor standing…mirrors are one of the best tricks for giving a room the illusion of more space. Not only that, they also bounce light around the room as well. Here a whole wall of wardrobes, which would otherwise look very imposing in the space, is camouflaged by using mirrored doors. If you have existing wardrobes, you could think about using mirrored panes on the doors to get the same effect.

BE THE BOSS OF YOUR OWN STYLE
Don't listen to the chatter too much, interiors magazines are there to offer inspiration and not dictate your style. Plus, take it from someone who has been on a million shoots, the houses NEVER look like the finished photos in the flesh. They are styled to perfection, all clutter removed to get the perfect shot. Make design choices based on the things you love. That's when a house truly starts to become a home.

SAY IT WITH FLOWERS
Nothing brings a space to life like plants or flowers. The simplest bunch can lift your mood and do wonders for your decor. If you're like me and manage to kill every plant I have ever been given, fret not, there's a world of faux out there waiting for you. Times have moved on since you mum's potpourri and a little investment will get you a very realistic alternative. Just be prepared to get the duster out now and again!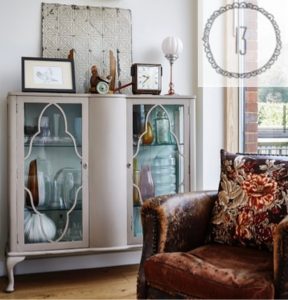 THINK OUTSIDE THE BOX
Officially a dated display cabinet, this car boot sale beauty was given a lick of paint and now houses loads of my props. Similarly I have one filled with scarves by our front door, another with interiors books. Storage doesn't have to be boring. Display what you love in interesting ways rather than hide it all away.

MAXIMISE EVERY AVAILABLE SPACE
This storage cupboard was built low (to sit under the window sill) and extra wide to create a daybed complete with futon mattress which then doubles up as a spare single bed. Now that's getting your money's worth!
WOW WITH WALLPAPER
Ok, so I'm a great champion of the stuff, but seriously the possibilities are endless. If you're a bit nervous about going all out on all four walls then think about creating a feature wall behind your bedhead or sofa or on the chimney breast in your living room. You could even wallpaper tired wardrobe doors. I wallpapered all my kitchen cupboards once. True story!
There are loads of removable peel and stick wallpapers on the market now as well. So if you change your mind, it doesn't have to be a drama to change the scheme.
When choosing the wallpaper for your feature wall, match your paint to the background colour for a smooth transition round the room. And have fun! Your interiors should make you smile, that's the main message here!
DON'T BE AFRAID TO ASK FOR A HELPNG HAND
You don't need to spend a fortune to get the advice you need when decorating your home. Lick paint now offers a virtual paint colour consultation, Farrow & Ball have a similar set up, and many of the major high street retailers have in house design services you can tap in to if you know exactly where you want to shop. And that's not to mention the myriad of virtual offerings interior designers have come up with in 2020 from a digital mood board to a full room design or whole house project.

TRY BEFORE YOU BUY
The simplest way to do this is create a mood board of the furniture and accessories you are thinking about for your room.  You can then instantly see if it flows of if something stands out in the wrong way. There are loads of online tools for this, or you could do it the old fashioned way and create a physical one from magazine cuttings and pictures you have printed out…or you could get a professional to do it for you!

FRAME IT
You don't have to wallpaper a whole room to make a real statement. This House of Hackney beauty was framed in painted strips of mdf instead of taken round the side returns of the chimney breast. You could also imply this technique by wallpapering within wall or door panels, or simply mount sections of your favourite wallpaper in conventional frames to hang on the wall.

WALL DECALS
Essentially easily removable, re-usable stickers for grown-ups, these are a fab way to add a bit of personality to a room without committing to wallpaper.

BE A CUSHION HUGGER
You can ever have too many cushions. I bought two more for my house last night because they make me happy. In these unsetting times, loving the places we are confined to is more important than ever, so if a sparkly sequin pineapple on a tasseled cushion makes you smile then just to it!

ART, OR IS IT?
Decorate your walls with imagination. Here I have used an antique French screen flattened against the wall behind the sofa to break up the expanse of white, with the colours brought out in the cushions, throw and lampshade. This was a £65 steal at a local antiques shop and I often see similar at antiques fairs around the country going for a song.
MOCK IT UP
Don't make expensive mistakes. If you can't imagine how it's all going to look, then try it out first. I produced this 2d visualisation for a client using PowerPoint, It's all to scale and an extremely helpful way of showing a room makeover before you get spending.

REMEMBER WHO YOU'RE DESIGNING FOR
If you live on your own, then please ignore me and go as crazy as you want with your decorating style, but if you live with others, let them have a voice.
I'm lucky that my family are so used to me and my wallpaper obsession, and the constant shifting of the furniture, they generally don't bat an eyelid when I bring something new into the house.
I do, however, make sure the kids are involved in their room designs, and my husband at least gets a look-in when it comes to the rest of the house!

TAKE YOUR TIME AND DON'T SWEAT IT
We're not saving lives here, we're just making them prettier. It should be fun. Take time to live in your spaces before making big changes, get help if you need it, and most of all enjoy the decorating journey.
Widgets